Adopt or foster a rescue dog and help save them all!
Find your perfect match in more than 100 junior and adult dogs and puppies in our adoption centre in Sai Kung.
Our aim is to find our beautiful dogs a kind and responsible adopter who can give them a forever loving home and help them have a better life.
Every dog that we rescue is health checked, de-sexed, de-wormed, vaccinated and given flea, tick and heart worm prevention. They are also leash trained and will have been walked by our volunteers and visiting school groups. Having a constant daily routine, the majority of our dogs are toilet trained and know to wait until they are out of their rooms to do their business. Most will wait until they are taken for a walk to do so.
Adoption Process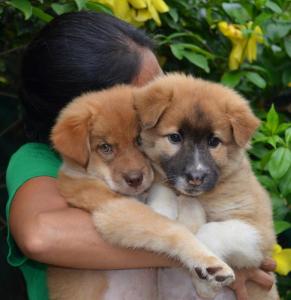 HOW DO I ADOPT A DOG?
We suggest that you visit our kennels to meet our dogs. Discuss your requirements and living arrangements with our kennel staff. Our Adoption Questionnaire will help us determine which dogs are most suitable for you. Our staff will then recommend some dogs that match these requirements. We encourage you to take the dogs for a walk to get to know them better.
If you are looking for a companion for your existing dog, please bring your dog with you to our kennels and walk them with our dogs. They may decide to select their own companion instead!
We always recommend that you start with a trial adoption first, to see if you and the dog are a good match. Remember that the dog will need to adjust to a new environment, so may take some time to do so. Some dogs will not eat or go to the toilet for a few days, but this is not a cause for alarm. Patience and gentle encouragement are the key.
We encourage you to maintain a line of communication with us not only during the initial few days but also after adoption. We will support you with any training issues that may arise even months or years after adoption (e.g. introducing another pet, concerns about a new baby), as it is important to us that you and your dog enjoy a long-lasting relationship and your dog becomes a permanent family member.
If you haven't experienced the joy of adopting a dog or if you want to expand your family, now is the right time! Remember, dogs can live a long time (up to 15 years is not uncommon), and adoption is a long-term commitment. If you are not able to keep a dog for all its life, please consider fostering instead. When adopting a dog from us, we ask for an Adoption Fee of HK$500 and reimbursement of our medical expenses or donation to help support the costs of our other stray friends.
Foster Care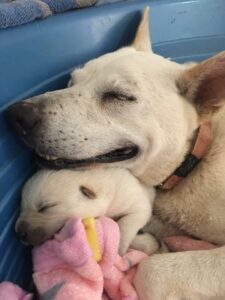 How do I become a Foster Pawrent?
Please have a look at "The Complete Guide to Fostering a Dog" here (by topdogtips.com):
Adopt, don't shop!
Show your love for animals — and help the rescue dogs find the loving homes they deserve.
Adopt or Foster a Rescue Dog or Puppy from a Shelter in Sai Kung, Hong Kong. Visit our Kennel next to Catherine's Puppies. Address 151 TAI LAM WU, PAST HO CHUNG in Sai Kung